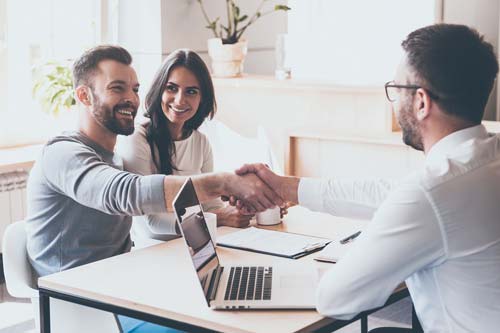 Buying a home can be a stressful time.  My goal is to take that stress away by making the buying process easy for you, and providing you with information & knowledge so you can make well-informed and confident decisions.
I created a video series titled "9 Steps to Buying a Home." It goes through the buying process from beginning to end, and goes into detail of each step. Click here to go to that playlist. Here is the first video in that series:
Below is some basic information about the buying process, buyer agency, how real estate agents get paid, and what your next steps should be to buy a home. I hope it is helpful to you! Don't hesitate to contact me at anytime to schedule a 30 minute buyer consultation. Call/text me at 608-320-9612 or email sethpetersonhomes@gmail.com.
The above flowchart shows the basic buying process. It starts with getting pre-approved for a mortgage loan and selecting a trustworthy & competent Realtor. Then comes the home search and offer process. After a contract is in place, you need to work through contingencies such as home inspection and financing. Then you close and move into your new home!
You need to know WHO the real estate agents are representing. If you do not sign a Buyer Agency contract with a real estate agent, then you DO NOT have an agent representing you. Just because an agent shows you the house DOES NOT mean they are looking out for your best interest.
You do not need to sign a buyer agency contract, but it is very beneficial. The biggest benefit is that you get a professional to represent you and look out for your best interest. You'll be able to get advice from somebody who (hopefully) has sold hundreds of houses and will be a valuable asset for you to have on your team in buying a home. Also, it should be FREE…
The middle section above is what most commonly happens. The seller pays the agreed upon commission to their real estate agent (the Seller's Agent, a.k.a. the Listing Agent). That commission then gets shared between the Seller's Agent and the Buyer's Agent. So in this scenario, the Seller pays the commission that they agreed on paying when they signed a listing contract, The Seller's Agent shares that commission with the Buyer's Agent, and the Buyer does not pay any of it.
WHAT TO DO:
These are the 2 main things you should do to start your home search:
Get pre-approved for a mortgage loan
Have a 30 minute buyer consultation with a Realtor®
Take care of one of those steps now by contacting me to schedule a 30 minute buyer consultation!